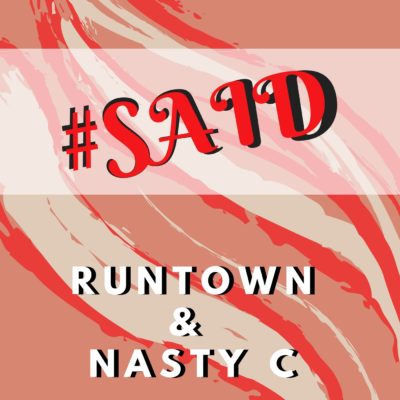 Nigerian and South African Superstars, Runtown and Nasty C collaborate to deliver a new banger "SAID"  for every radio set this holiday season.
The Young King Nasty brings his gift with words to play with the Nigerian "Mad Over You" crooner and together, trust them to Run your Town with the brand new track 'Said'.Two of Africa's most celebrated acts in 2017.
Produced by Shadow Chris from Ivory Coast, "Said" is a fusion of Afro, dance, and island tunes perfect for the summer. Runtown and Nasty C delivered what has become one of the most loved songs from the very first Coke Studio Africa sessions, since merging South Africa with the rest of the continent.
The song speaks about their journey from grass to grace in the music industry. They speak about their struggles, successes, and lowest moments before getting it to the top. Directed by Justin Campos in South Africa, the visuals are free, fun, simple and has over 16 million views on Youtube.
Listen & Enjoy!!
DOWNLOAD Runtown x Nasty C – #Said
Quotable Lyrics:
Up with the weights, I work (work, work)
Down with the pack, I roll (I roll, roll)
Now up with the sack and you know that I deserve it
Half and half when we split the purse, yeah
The preacher man said:
"Please remember that your savior's on the way"
I still remember when the teacher man said:
"I wouldn't make it", but I made it anyway
I remember said it wasn't easy
Right now everyting is amazing
Steady driving dem loco
Them are taking my photo
I remember that they telling me no, no
Right now everyting is global
Steady driving dem loco