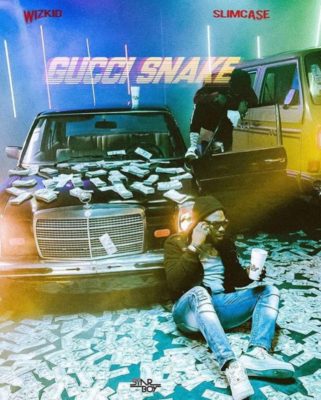 Wizkid's Gucci Snake Features Slimcase. "Gucci Snake" is a jam every music fan have been anticipating for some months now and Wizkid finally serves it hot after the successful release of his double singles "Fever" and "Master Groove".
The Starboy CEO really show he's a boss on this track as its gonna be another certified banger and end of the year jam. The song is about a boastful young man professing his love for a lady and also promising to take care of her if she accepts him. Gucci snake initially starts at a gradual pace, leaving fans to nod along till they are carried away by the vibe and can't help bursting out in shaku-shaku dance moves.
The jam is enjoying massive airplay within and outside the country.  Wizkid's Gucci Snake With Slimcase was produced by Northboi and killertunes. The song is sure a hit as it has gained many views on YouTube up to 1 million views. "Gucci Snake" was produced by Northboi and Killertunes and it is said to be part of Wizkid's forthcoming "Made In Lagos" Album which is all set to be released soon. Stay Tuned as Starboy still got more hot stew in stock to dish out.
Enjoy the long-awaited jam below
Quotable Lyrics
E dey do me like Gaawu oh (j'on mo)
Fine fine baby oh (j'on mo)
Chop all my money oh (j'on mo)
Make I dey for you, honey oh (j'on mo)
Na me be the daddy oh (j'on mo)
You go be the mummy oh (j'on mo)
Fine fine baby (j'on mo)
Make I dey for you honey (j'on mo)
Oya take everything, gbe gbe gbe
Je k'on mo, gbe gbe gbe
Gucci snake has, gbe gbe gbe
Gucci Snake, gbe gbe gbe oh
Take everything, gbe gbe gbe oh
Je k'on mo, gbe gbe gbe
Gucci snake has, gbe gbe gbe